Accommodation
Start

09:15 PM - Feb 20 2020

Jabal El-Weibdeh, next to the police head department

+962 6 4625582
Students' Accommodation in Jordan
Modern Language center offers housing for students. It accommodates up to 110 students and enjoys the following features:
Close to malls, shopping centers, health and medical services.
Air conditioning (hot and cold) in each room
Free, 24/7 Wifi service
TV channels
Shared rooms for activities and study
Praying rooms for men and women
Male, Female and couple bed space is available.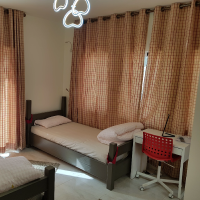 Students' Accommodation in Jordan Modern Language center offers housing for students. It accommodates up to 110 students and enjoys the following features: Close to malls, shopping centers, health and medical services. Air conditioning (hot and cold) in each room Free, 24/7 Wifi service TV channels Shared rooms for activities and study Praying rooms for men