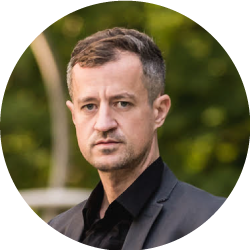 Tomas Hubatka
Tomas Hubatka, German Teacher
As a small child I kept asking myself how anyone could ever feel confident enough to become a teacher. I was sure, and I tested, that none of my teachers knew everything about their subject. So how could people, who themselves needed other people to learn from, teach me?
I then found, that the best teachers I ever had weren't those who had the most impressive titles but rather those who listened to me, to my questions, to my stories and to my problems. They weren't pretending to be interested, their curiosity was genuine.
Over the last 8 years of my teaching career I have been fortunate enough to listen to and learn from my students. The process of learning is a team effort, whereby the teacher's guidance is picked up in the student's active response. We learn from each other, at school, in life, in general.
This way the student can grow individually, and the teacher does his best to understand the student's needs.
Ideally, after a few weeks of this process, students, when asked how they feel about their progress, and how they would compare their abilities before and after, they just smile and ask not to be reminded.
Speaking and reasoning in the target language becomes natural, grammar and vocabulary are taught directly as well as 'through the back door'. Intensive dialogue and questioning, thought expression and fluent speech improve naturally.
Give it a try, jump and swim!