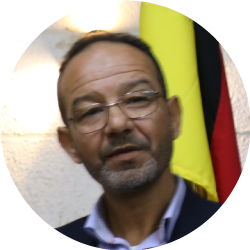 Abdallah Omar
English Teacher
As a matter of fact, I've been teaching at MLC for nearly 17 years now.  It is the best place for learning & teaching where it is easy to see growth & progress. Flexibility is the key to this job. I work with great directors and assistants in a friendly atmosphere. نحن ، في MLC
As a matter of fact, I've been teaching at MLC for nearly 17 years now.  It is the best place for learning & teaching where it is easy to see growth & progress. Flexibility is the key to this job. I work with great directors and assistants in a friendly atmosphere.
نحن ، في MLC ، نميل إلى اتباع مستويات عالية من التدريس. مع الأخذ في عين الاعتبار أن طلابنا هم أولويتنا. عادةً ما نقدم للطلاب أربعة اختبارات خلال الدورة التدريبية من أجل الحصول على تغذية راجعة أفضل للمساعدة في تشخيص أي مشكلات فردية والتعامل معها
بالإضافة إلى ذلك ، نستخدم في مركزنا سلسلة Interchange ،
السلسلة الرائدة في العالم للمتعلمين من البالغين والصغار والتي ترتكز على اللغة الإنجليزية الأمريكية
تقدم هذه السلسلة ممارسة القواعد ، وفرصًا لتحسين مهارات التحدث والقراءة والكتابة والاستماع مع التركيز على كل من الطلاقة والدقة
علاوة على ذلك ، نحن نستخدم النهج التواصلي الذي يهدف إلى تطوير الكفاءة التواصلية لدى المتعلمين بحيث يصبحوا متواصلين فعالين في اللغة المستهدفة. لذلك ، يعمل المعلمون كمدربين يسهلون اكتساب اللغة من خلال أنشطة حل المشكلات والمهام التي تتضمن مشاركة وتفاعل المتعلمين.
أخيرًا ، أشعر حقا بالفخر لأنني عضو في هذا الفريق المتميز في هذا المركز المرموق